Russia 'brazenly' meddled in US election, says ex CIA boss
Comments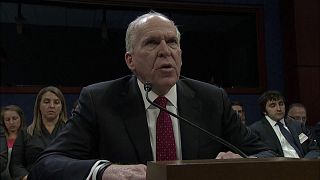 The former director of the CIA testified on Tuesday that Russia "brazenly interfered" in the US presidential election, something Moscow denies.
Russia brazenly interfered in our 2016 presidential election process

Former CIA Director
John Brennan told a congressional committee it became clear last summer that Moscow was trying to sway the election, and that he had personally warned the head of Russia's FSB security service that such interference would hurt both countries' relations.
"It should be clear to everyone Russia brazenly interfered in our 2016 presidential election process and that they undertook these activities despite our strong protests and explicit warning that they do not do so," Brennan testified at a hearing of the U.S. House of Representatives Intelligence Committee.
Brennan said he believed he was the first U.S. official to raise the matter of election interference with the Russians, citing a meeting he had on August 4 with FSB head Alexander Bortnikov.
Brennan said he briefed then President Barack Obama and other top officials, and that he discussed the matter with both Republican and Democratic U.S. congressional leaders in August and September.
US intelligence agencies concluded earlier this year that Moscow hacked and leaked the emails of senior Democrats as part of efforts to tilt the US election campaign and help Republican Donald Trump ultimately win the presidency.
FBI and congressional investigations are looking into the alleged Russian meddling. Both Moscow and Trump have consistently denied any collusion.
With Reuters