Turkey: constitutional change sees Erdogan back at head of ruling AKP
Comments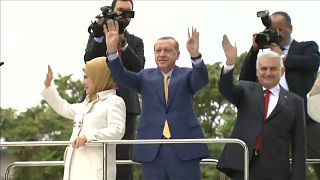 Turkey's president Recep Tayyip Erdogan has returned to lead the ruling AKP – the party he founded.
A referendum last month provoked a narrowly-backed constitutional change enabling him to become the country's first simultaneous head of state and party in nearly 70 years.
Speaking in Ankara ahead of his re-election, he vowed to fight the nation's enemies, both at home and abroad and pledged to continue the battle against terrorism.
Erdogan insists the sweeping political changes will ensure stability in the country following last July's coup attempt.
The Turkish government blames Fetullah Gulen for the failed uprising and has branded his movement a terror organisation.