Macron meets European Council President Tusk for first time since inauguration
Comments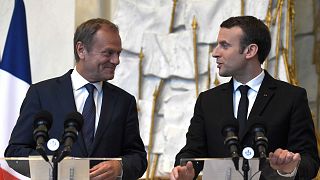 French President Emmanuel Macron on Wednesday met with European Council President Donald Tusk for the first time since taking office.
The newly elected leader hosted Tusk at the Elysee Palace for a private dinner, a sign of his determination to shore up European unity during his presidential term.
Tusk told Macron: "Europe needs your energy, your imagination and your courage. And when I say Europe, I am not thinking about the institutions or bureaucracy, but about millions of Europeans, who see your victory as a sign of hope."
Macron said: "I want to repeat here how important the European project is to me, and my will to work with the European institutions. I count on President Tusk and his leadership to go even further in this work of re-shaping and setting in motion again a European ambition".
The pair are hoping to work together on new policies to instigate a complete overhaul of the bloc.
First cabinet a mixed bag
Wednesday also saw the centrist leader choose his cabinet minister, opting for a gender-balanced group of ministers from across the political spectrum.
Half of the 18-strong government are women.
Having already selected conservative Edouard Philippe as his prime minister, Macron picked Republican Bruno le Maire
as economy minister.
Gerard Collomb, the mayor of Lyon and a vocal supporter of Macron was named minister for the interior, while close ally of the president's predecessor Francois Hollande, the Socialist former defence minister Jean-Yves Le Drian took up the posts of foreign minister and minister for Europe.
Marielle de Sarnez was given the role of minister for European affairs.