Japanese princess to give up royal title for love
Comments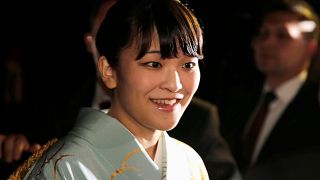 A Japanese princess is to give up her royal title so she can marry a commoner she fell in love with at university.
Princess Mako, 25, the eldest granddaughter of Emperor Akihito, is reportedly engaged to legal assistant Kei Komuro, of the same age.
Women must leave the Japanese imperial family if they decide to marry outside of it.
Conservatives fear that allowing women to retain their titles after marriage to commoners could be a first step towards females inheriting the male-only throne.
WATCH: Japan's Princess Mako to marry commoner, lose royal status. Full story: https://t.co/gZxTDKIDy4pic.twitter.com/HPZDOG4Bug

— Rappler (@rapplerdotcom) May 18, 2017
For love, the princess will give up the sprawling palace grounds in Tokyo and a royal allowance and move to a more modest home and begin paying taxes.
The unofficial engagement will likely renew the debate over the role of women in the royal family.
Japan's cabinet is expected in the coming days to approve a bill to allow Akihito, 83, to step down, the first abdication by a Japanese emperor in nearly two centuries.
Princess Mako of Akishino to wed ex-classmate pic.twitter.com/17Uj5Ew7pp

— Thoton and the News (@Thoton) May 16, 2017
Princess Mako's engagement likely to renew debate over female succession https://t.co/u7mopRm74ipic.twitter.com/kI8E6msG2j

— The Japan Times (@japantimes) May 18, 2017
He has previously raised concerns that his age would make it hard to fulfil his duties.
But the legislation will make no reference to revising the male-only succession rules or strict marriage customs imposed on women but not on men.
There are only four heirs to the throne, Akihito's octogenarian brother, his two middle-aged sons, and his ten-year-old grandson Prince Hisahito.
"Under the present system, there is the risk that Hisahito will be the only one left in the imperial family," Keio University Professor Hidehiko Kasahara told local media.