Embattled Venezuelan government send troops to combat protester violence
Comments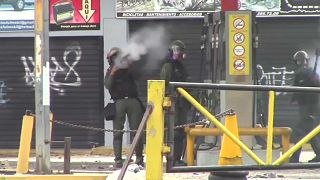 After six weeks of anti-government protests in Venezuela, the crisis shows no signs of subsiding.
Reports of looting, vandalism and violence are emerging from the South American nation as activists attempt to topple leftist President Nicolo Maduro's regime.
So far at least 42 people from both sides have died in clashed between protesters and government forces.
The embattled regime has sent over 2,500 troops to the state of Tachira on the country's Colombian border, one of the areas worst hit by the violence.
#Venezuela: in #SanCristobal (#Tachira) a supermarket was looted a desperation continues to rise among the people pic.twitter.com/QABibhiFY0

— Thomas van Linge (@arabthomness) May 17, 2017
Hundreds of thousands of Venezuelans have taken to the streets in recent weeks to demand elections as the country struggles in the grips of an economic crisis.
Despite having the largest oil reserves in the world, the country's fossil fuel dependent economy has floundered after the price of oil dropped.
#Venezuela: the situation in #Tachira is spiraling out of control, roads are closed as police & protesters fight throughout the region pic.twitter.com/1PgLc6eiJk

— Thomas van Linge (@arabthomness) May 17, 2017
Maduro has blamed the opposition for Venezuela's plight, accusing them of plotting a Washington-backed coup to oust him.
On Wednesday in the capital Caracas, anti-government activists staged a candlelit vigil to honor those killed during the protests.
#Caracas#Venezuela protest against Maduro wsj</a> <a href="https://twitter.com/BBC">BBCCNN</a> <a href="https://twitter.com/washingtonpost">washingtonpostFT</a> <a href="https://twitter.com/AP">APUPI</a> <a href="https://twitter.com/CBSNews">CBSNewspic.twitter.com/JnaqMGiIBY

— TecnocraciaVenezuela (@TecnocraciaVzla) May 18, 2017
They are demanding freedom for jailed activists, foreign aid to combat economic decline, and complete autonomy for the opposition controlled legislature.