Brazil's Temer denies approving hush money in corruption case
Comments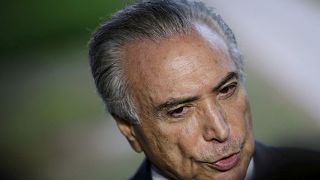 There are claims in Brazil that President Michel Temer approved payments to try to silence a witness in the country's biggest-ever corruption inquiry.
The president's office has acknowledged that he met the businessman reportedly making the allegations, but denies any wrongdoing.
A report in O Globo – which three sources have apparently described as accurate – says the businessman claims to have recorded a conversation with Temer about hush money paid to Eduardo Cunha.
The former House Speaker was stripped of his parliamentary seat and jailed for corruption, money laundering and tax evasion.
The newspaper report did not say what Cunha was asked to keep quiet about.
He has previously said he had compromising information about several senior politicians linked to a vast bribery scandal at the state oil company Petrobras.
In Sao Paulo about 2,000 people gathered on Wednesday demanding the president's resignation.
"Finally one of the most corrupt and unpopular governments in the history of our country will fall. The people will only leave the streets when the government falls and its reforms are withdrawn," one young protester said.
Following the newspaper report, some reform work in parliament was halted. Some opposition politicians have called for Temer to go. With several ministers facing corruption allegations, they argue his government is no longer legitimate.
Temer, previously vice-president, took office after Dilma Rousseff was impeached and removed from power.