Trump 'halted FBI investigation' into former aide
Comments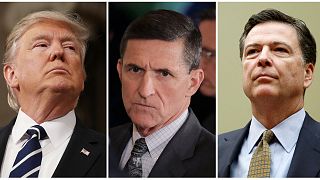 For the second time in as many days, US President Donald Trump's relationship with Russia has come under intense scrutiny.
This time, over allegations that the leader asked sacked FBI director James Comey to drop an investigation into links between Russia and his former aide Michael Flynn.
According to a memo written by Comey the day after Flynn resigned from his position as a national security adviser, Trump said he hoped Comey could "see his way clear of letting Flynn go."
Republican chairman of the House oversight panel Jason Chaffetz vowed to get copies of any memoes written by Comey about meetings with Trump and has written to the FBI.
.GOPoversight</a> is going to get the Comey memo, if it exists. I need to see it sooner rather than later. I have my subpoena pen ready.</p>— Jason Chaffetz (jasoninthehouse) May 16, 2017
The White House has denied the reports, saying in a statement that despite the president's supported of Flynn, he has never asked anyone to end an investigation.
Flynn was forced out in February after information surfaced about discussions he had with the Russian ambassador to Washington about lifting sanctions before Trump took office.
He then misled Vice President Mike Pence about the conversation.