Deadly dengue epidemic declared in region of Peru
Comments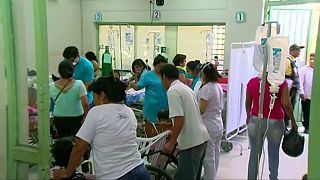 The World Health Organisation has declared a dengue fever epidemic in Peru's northwestern region of Piura after the local death toll reached 19.
Heavy flooding has helped mosquitoes breed which spread the virus when they bite humans.
UMCOR is preparing to work with survivors of March floods & April landslides in Ancash, Peru.#UMCOR#Peru#disasterrecoverypic.twitter.com/c1U2aaA1gX

—

UMCOR

(@UMC_UMCOR) May 15, 2017
According to official figures, 3,150 cases have been confirmed in Peru in the latest outbreak, with another possible 12,446. In Piura alone, three hundred possible new dengue infections are reported daily.
Soldiers have been mobilised to distribute aid and health supplies and the government has set up mobile clinics to treat people with suspected cases of dengue. Large scale residential fumigations are also being carried out.
Peru's Health Minister, Patricia Garcia, asked the population to help the government by covering stored water and allowing fumigation inside homes, to help to destroy breeding grounds for mosquito larva.
Dengue can cause a range of symptoms, from mild flu-like illness to rashes and skeletal pain. Severe and potentially deadly forms develop in about five percent of patients.
Fears of a dengue outbreak come as Peru prepares for a massive reconstruction effort following the aftermath of deadly floods. The cost of reconstruction is expected to cost the country three billion dollars in the short term, and up to nine billion dollars over five years, the country's president, Pedro Pablo Kuczynski, has stated.