North Korean test missile 'capable of carrying nuclear warhead'
Comments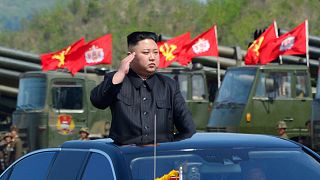 North Korea has claimed that the new type of ballistic missile it launched on Sunday is capable of carrying a nuclear warhead.
Although the claims remain unverified, it is known that the secretive communist regime test fired a rocket, which traveled over seven hundred kilometres before crashing into the sea of Japan.
The US said the missile was fired from Kusong, a city which plays home to much of North Korea's military activity, including munitions factories and uranium mines.
It is believed that the missile fired was one of those put on display during a show of the regime's military might in April.
The so-called Hwasong-12 was described by North Korean state media as a "medium to long range ballistic rocket".
South Korea said on Monday it will seek to strengthen allegiances with its allies as tensions mount in the wake of the launch.