Macron meets Merkel in first overseas visit
Comments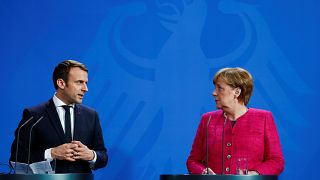 New French President Emmanuel Macron has met with German Chancellor Angela Merkel, just a day after officially taking office.
His swift visit to Berlin, his first trip overseas, is aimed at underlining the importance of France's relationship with Germany, in his bid to relaunch the European project.
Merkel agreed to work closely with the new president and stressed the need to protect the European Union from crisis.
Macron said he is hopeful that he can set up a roadmap to reform the Eurozone within the next few weeks, with the help of his ally.