Pope gives the Catholic church its two youngest Saints
Comments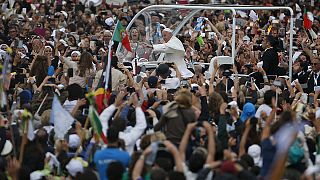 Pope Francis has blessed the Roman Catholic church with two of its youngest saints, canonising two Portuguese shepherd siblings who claimed to have seen the Madonna 100 years ago.
Saints Francisco and Jacinto Marto died just three years after their vision in 1920 aged 10 and 9. Only Catholic martyred saints are younger. Their home town is now a major pilgrimage site with people coming from around the world to venerate the Virgin of Fatima.
An estimated half a million plus Catholic faithful made the journey to Fatima to see the Pope perform the ceremony.
"It was very moving, above all the moment of silence when the Pope was praying, it was impressive. Nothing else was heard," said one man from Bilbao.
"I saw the faith of every person that came here. I saw the faith in every young person, the joy in their hearts. It is a unique emotion," said another pilgrim.
Around seven million visitors come to Fatima every year, where the Martos, along with Lucia Dos Santos, who became a nun and lived to 97, were reportedly given three messages, the "secrets of Fatima". A process has begun to canonise Dos Santos, too.