Crotian pop-opera, Romanian yodelling and Hungarian gypsy fusion in Eurovision final
Comments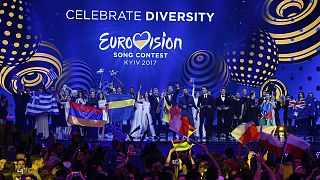 Croatia's so-called Mr Voice scored his place in the last round of the song contest with a pop opera fusion.
Hungary's first Roma entrant performs a mixture of electronic beats and gypsy vocal flourishes.
A Romanian duo have combined rock, rap and yodelling for their performance.
Also in the final: Austria. Bulgaria, Belarus, Denmark, Israel, Norway and the Netherlands.
Macedonia's singer, who hasn't made the final, told the world she was pregnant and received a marriage proposal from the father of her unborn child. She accepted.
Some 26 countries are competing in the Eurovision final in front of a television audience of millions.