Second Eurovision singer faces ban after Crimea visit emerges
Comments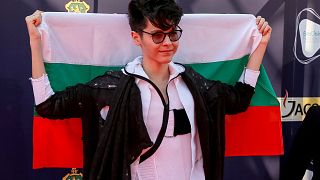 A second Eurovision contestant could be banned from Saturday's competition for visiting annexed Crimea without Ukraine's permission.
Ukraine said it is investigating a video that appears to show Bulgaria's Kristian Kostov performing on the Black Sea peninsula in June 2014, three months after it was seized by Russia.
The country has already barred Russia's contestant from entering the country, after she made an unauthorized visit to Crimea.
Can't wait for tonight's semi final! Thank you for your support! Our love is untouchable! #Bulgaria#Eurovision#TeamKrispic.twitter.com/9QdOskJ2jV

— Kristian Kostov (@KristianKostov_) May 11, 2017
In a statement, the Bulgarian Eurovision delegation confirmed that Kostov had visited Crimea "for just a few hours" when he was 14 when he was part of a children's musical group.
A spokesman for Ukraine's border service, Oleh Slobodyan, said: "We will study the information."
However, 17-year-old Kostov may not have broken Ukrainian law if he visited Crimea as a minor and before legislation came into force banning foreigners from visiting the annexed territory without permission from Ukrainian authorities.
Eurovision: what is it all about? https://t.co/lsDiEdOSs6pic.twitter.com/h9mECo4Cfu

— euronews (@euronews) May 9, 2017
Backstage at Eurovision ahead of tonight's Second Semi-Final! #ESC2017https://t.co/96vhuSf5Sx

— Eurovision (@Eurovision) May 11, 2017
Kostov, the youngest competitor this year, is already in the country ahead of his semi-final performance with his song 'Beautiful Mess'.
Hours before he was due to perform he tweeted about his excitement.
A total of 42 countries are competing in this year's contest, which is being overshadowed by Ukrainian and Russian tensions.
Just 3 hours until the second semi-final of #ESC2017! Use our special edition Twitter stickers on your viewing party pics & send them to us! pic.twitter.com/gdgZ0VFxfx

— Eurovision (@Eurovision) May 11, 2017
Some claim Russia provocatively chose Yulia Samoylova as their contestant, knowing she would be barred from entering Ukraine.
The final takes place on Saturday in the Ukrainian capital Kyiv, following Ukrainian Jamala's win last year with a song about war-time deportations of Crimean Tatars by Soviet dictator Josef Stalin.