Breastfeeding first in Australian parliament
Comments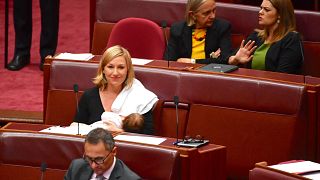 Larissa Waters, senator for Queensland in the Australian Senate, has made history by becoming the first mother to breastfeed in the Senate chamber.
The representative of the left-wing Greens party fed her two-month-old daughter Alia, during a vote on Tuesday (May 9).
It follows the decision by the Australian House of Representatives to allow breastfeeding in February 2016.
Despite lawmakers in both Australian houses being allowed to breastfeed, Waters is the first to do so.
In a Facebook post reacting to the news coverage of her breastfeeding, Waters said: "We need more women and parents in parliament. And we need more family-friendly and flexible workplaces, and affordable childcare, for everyone".
In 2003, MP in the Victoria state legislature Kirstie Marshall was ejected from the chamber for breastfeeding her 11-day-old daughter.
Waters shared these images of Marshall to show "how far we have come".
MPs had previously only been allowed to take their infant children into parliamentary offices or public galleries.
In 2016, Spanish lawmaker Carolina Bescansa made headlines when she breastfed her young son during a parliamentary session.
Her party leader, Podemos chief Pablo Inglesias, was among those seen holding the child. But other politicians said it was "lamentable", and "frankly unnecessary".