Breastfeeding could save thousands of young lives
Comments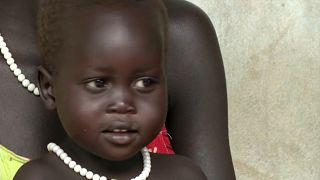 The World Health Organisation and UNICEF are encouraging mothers to breastfeed their newborn babies with the aim of saving the lives of over 800,000 children under age the age of five annually.
A new campaign will increase support for breastfeeding in health facilities by recommending the limited use of breastmilk substitutes and improving support for mothers and babies when they are discharged from hospital.
The WHO says in many hospitals and communities around the world, being breastfed or not can make the difference between life and death.
"It is extremely important because breastfeeding protects lives," explains Victor Aguayo, Associate Director of Nutrition at Unicef. "Breastfeeding is saving thousands of children's lives every year, year in, year out. It also promotes healthy growth in children. Children grow taller and are less likely to be overweight and obese later in life."
Aguayo also says there are benefits for the mother.
"It also protects women's health," he says. "Breastfeeding is associated with a lower risk of various cancers including breast cancer and obesity in women. So there are many reasons to protect and promote breastfeeding."
In West and Central Africa, Unicef says promoting breastfeeding could be the single most important child survival intervention in the region.