What Emmanuel Macron has said about Brexit
Comments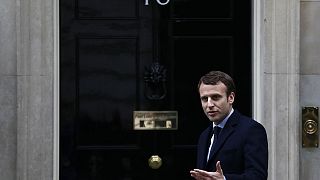 There were messages of congratulation for Emmanuel Macon following his election as French president from both sides of the English Channel. Yet those who are set to be the key players in the forthcoming negotiations over the UK's departure from the European Union may have contradictory feelings as to what his victory heralds.
What is going to happen is not 'taking back control', it's servitude

French President-elect
Reaction to Macron's win
Downing Street said in a statement that in Theresa May's phone call to the French president-elect on Sunday night, "the leaders briefly discussed Brexit and the Prime Minister reiterated that the UK wants a strong partnership with a secure and prosperous EU once we leave".
In Brussels and Berlin, the messages welcomed the renewal of France's bond to the European Union.
"Happy that the French have chosen a European future," Commission President Jean-Claude Juncker tweeted in French , attaching the text of his letter to Macron.
"Your victory is a victory for a strong and united Europe and for French-German friendship," Angela Merkel's spokesman Steffen Seibert tweeted in both French and German.
Félicitations, EmmanuelMacron</a>. Votre victoire est une victoire pour une Europe forte et unie et pour l&#39;amitié franco-allemande.</p>&mdash; Steffen Seibert (RegSprecher) May 7, 2017
What the papers say
Newspapers have differed in their interpretations of what Macron's victory might mean for Brexit. Le Monde, reporting from London, highlighted the prevailing view among British papers that it does not augur well for Theresa May. But the German paper Tagesspiegel cast doubt on the unity of a newly strengthened French-German axis: "Emmanuel Macron's victory reinforces France's weight within the EU, to the detriment of Germany, weakened by Brexit which deprives it of a partisan ally of (economic) liberalism," it said.
Compare: 1) after French 1st vote > Macron wins but story twisted towards Le Pen poll surge/linked to Brexit 2) after Macron wins > nothing pic.twitter.com/Qh1ejKJp7p

— Dr Tanja Bueltmann (@cliodiaspora) May 7, 2017
Macron in his own words
Emmanuel Macron himself has made it clear that his priority is to preserve European unity, that its main principles are non-negotiable – and that while Britain should not be punished for Brexit and a deal is desirable, it should accept the logical consequences of its decision to leave the EU.
"I am a hard Brexiter," he said in an interview with Monocle magazine in March, adding that Europe "made a mistake" in negotiating a pre-referendum deal with former Prime Minister David Cameron. "It created a precedent, which is that a single state can twist the European debate to its own interests. Cameron was toying with Europe and we agreed to go along with it, which was a big mistake."
Here's what France's new president thinks of Brexit (from our interview with Macron in March) https://t.co/jhP2An9WS3#Presidentielle2017pic.twitter.com/mEvIE4aB2h

— Steve Bloomfield (@BloomfieldSJ) May 7, 2017
In the interview Macron went on to say that Britain had to choose a model "such as the Swiss, Norwegian or Canadian" to trade with the EU. "You cannot enjoy rights in Europe if you are not a member – otherwise it will fall apart," he added. Foreign Secretary Boris Johnson and former UKIP leader Nigel Farage were guilty of the "crime" of sailing a ship into battle and jumping overboard after creating turmoil. "What is going to happen is not 'taking back control', it's servitude," he concluded.
'EU membership the best trade agreement'
The French president-elect visited London earlier this year, meeting the British prime minister at No.10 Downing Street. In a press briefing at Westminster he reiterated that a post-Brexit United Kingdom would be worse off: "the best trade agreement for Britain… is called membership of the EU," he said. There were also words of warning regarding future rights of the City: continued financial 'passporting' (enabling banks or financial institutions to trade services freely in EU or EEA states) would depend on a significant financial contribution and a continued acceptance of the free movement of people.
Macron also said that the UK would have to remain subject to European Court of Justice rules in any transition period after it formally left the EU. Back in October Theresa May said Britain post-Brexit would control its own borders and would no longer be subject to ECJ jurisdiction.
The former banker and then-presidential hopeful was just as uncompromising over Brexit, speaking in English in an interview with Channel 4 in February. "I will be pretty tough on it, because we have to be tough on the rest of the European Union, and not to convey the message that you can decide to leave without any consequence," Emmanuel Macron said. The aim, he added, was not to punish Britain but "to be consistent with such a decision. You don't get the passport, and you don't get access to the single market when you decide to leave."
Updated piece on Macron, the EU and Brexit: https://t.co/qJcNwji1NP

— Faisal Islam (@faisalislam) May 8, 2017
How hard will Macron really be on Brexit?
The next French president will not decide alone the course of the Brexit negotiations. Britain is also an important trading partner for France, Macron himself comes from the north of the country and is unlikely to want the English Channel to become a kind of new economic wall. However in an interview with the Financial Times before last year's EU referendum, Macron said: "Objectively, Brexit has more of an impact on Britain than Europe from an economic point of view – our dependence on the British economy is not so huge".
Some commentators have suggested that tackling domestic French problems will be a far higher priority than Brexit. And that a reinvigorated EU, having seen off the populist wave at least for the time being, may not see the need to be quite so tough on the UK.
Following his victory, Emmanuel Macron's chief economic adviser, Jean Pisani-Ferry told BBC Radio on Monday that no-one had an interest in a "hard Brexit". "There is a mutual interest in keeping the prosperity that exists and that has been built over the years, also the security and defence relationship which is extremely important in the kind of environment we are in, and which is a very dangerous environment. So we have to keep all that. At the same time we have divergent interests on some aspects of the negotiation, so there will be a tough negotiation and he will be tough," he said.
Good News for France and U.K. Pisani-Ferry is a first-rate thinker. https://t.co/wbnkk9zgPG via FT</a></p>&mdash; Craig Kennedy (RCK52) May 8, 2017