Macron scores PR coup with visit to Downing Street
Comments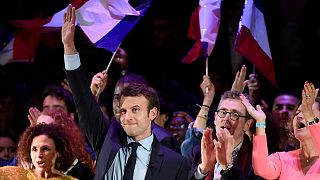 Britain should not get preferential treatment from the European Union after it leaves the bloc. That was the message from French presidential candidate Emmanuel Macron who has paid a visit to Downing Street.
His meeting with UK Prime Minister Theresa May was a public relation coup for the ex-banker at a time when his campaign appears to be losing momentum.
Macron who later went on to address a rally in centrral London, reportedly told May that an exit is an exit but mutual interests should be defended:
"It is the preservation of Europe, of the common market, of the European Union, which are in play at this moment. If we don't negotiate this 'Brexit' well, everyone will be weakened. And then, of course we will defend French interests."
Hundreds of people queuing for Emmanuel #Macron's meeting at #CentralHall in #London. #EnMarche#MacronLondrespic.twitter.com/lm2bcdedOk

— Alexander Seale (@AlexSeale) February 21, 2017
Macron is running as an independent in the French election. He was in London to court voters which has an estimated 300,000 French resident.
Opinion polls have him in a tight contest with scandal-hit conservative Francois Fillon. Both are on 20%.
The far-right leader Marine Le Pen who is on 27% is expected to reach the second round run-off with either Macron or Fillon.
Can Emmanuel Macron pull off a boldly liberal French presidential campaign? https://t.co/pydhRbm06Kpic.twitter.com/wHazk1UC9e

— Newsweek (@Newsweek) February 21, 2017