Israel sued for millions over 2015 firebomb attack
Comments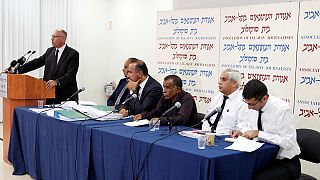 Relatives of a Palestinian family killed in a firebomb attack blamed on Jewish settlers are suing the Israeli government for damages.
What happened?
Saad Dawabsheh, his wife Riham and 18-month-son Ali were killed in the 2015 firebombing.
Four-month-old Ahmad was the only family member to survive.
The attack in the village of Duma and the drawn-out investigation helped fuel months of Israeli-Palestinian violence.
What do the relatives say?
That the village where the family lived in the West Bank was under Israeli control and therefore the government is liable for not protecting them.
"The Dawabsheh family sues Israel for compensation of tens millions of shekels," the Dawabsheh's lawyer Ahmad Amara told reporters.
This is the equivalent of several million euros.
The family accuses Israel of ignoring the incitement and violence of Jewish West Bank settler extremists.
Has the Israeli government said anything?
Yes.
Defence Minister Avigdor Lieberman has reportedly said Ahmad Dawabsheh is not eligible for compensation from the state.
Under current law, the state must compensate Israeli citizens affected by terrorism, Lieberman is quoted as saying.
This does not apply to Palestinians "who are not citizens of residents of Israel," he continued.
Has anyone been charged in connection with the attack?
Yes.
Two Jewish extremists have been charged with murder.
Their trial is ongoing.