Boko Haram frees 82 Chibok school girls
Comments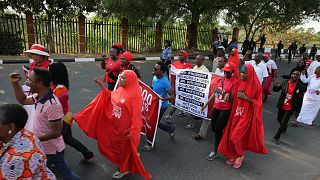 82 Nigerian schoolgirls Kidnapped by Boko Haram three years ago in Chibok have been freed.
The release is the largest so far and follows lengthy negotiations.
Earlier the president's office said the girls were handover in exchanged for a number of Boko Haram suspects.
They were transported back to Nigeria's capital Abuja by the International Committee of the Red Cross which is said to have acted as an intermediary during the release talks.
From there they were taken by military convoy through the city ahead of a meeting with Nigeria's President Muhammadu Buhari.
Snatched in 2014, more than 80 girls were let go before this latest release, including 21 last October. Around 100, however, are still missing.
The kidnappings sparked outrage around of the world and resulted in a global campaign #bringbackourgirls supported by then US First Lady Michelle Obama.