World's heaviest man to undergo surgery
Comments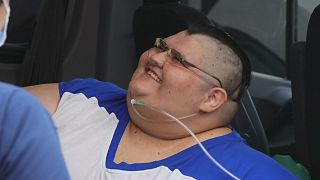 In Mexico, the world's reportedly heaviest man is finally set to undergo surgery.
Juan Pedro Franco, who once weighed nearly 600 kilos has spent most of the last six years confined to a bed. He will have a gastric bypass next week. (May 9)
The 32-year-old has already shed nearly 400 pounds over the last three months at a special weight-loss clinic to prepare for the operation.
Doctors hope it will help reduce his weight by 50 percent.
Speaking from his hospital bed Franco said:
"I have to remain optimistic because if I get depressed then it's only going to make it worse. So we have to go forward anyway and give it everything on our side. Everything we can do has to be done. If they (doctors) help me, then I will thank them, and I thank the doctors who are watching over me and who are supporting me."
Franco says he wants to lose weight so he can dance again.
At his heaviest he was almost as obese as fellow Mexican Manual Uribe – who was once considered the world's fattest man before he died in 2014.