Indonesian authorities hunt inmates after mass jail break
Comments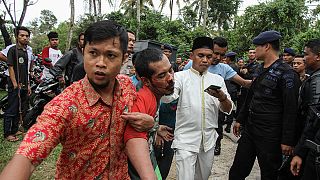 Indonesian authorities have been hunting around 200 prisoners who broke out from an overcrowded jail on Sumatra island.
They reportedly tore down a gate near a mosque in the complex after being allowed out of their cells to pray. It comes after some inmates accused guards of being violent.
Hundreds of police and soldiers were deployed near Sialang Bungkuk prison in Pekanbaru, the capital of Riau province.
It is reported that 1,800 prisoners have been housed at the jail, which has a capacity of up to 700.