Canada: flooding in Quebec forces hundreds to evacuate
Comments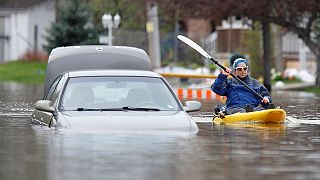 In Canada, flooding caused by torrential rain has forced hundreds of families to evacuate.
In Quebec, one of the hardest hit regions, some 700 homes had to be evacuated.
The downpours are expected to continue throughout the weekend as a massive weather system of persistent heavy rain steadily drenches the east and centre of the country.
One resident said: ''Most people left. A couple of them (houses) are high enough that they are okay, and they decided to stay."
"I'm feeling sad, you know. It's been there for 15 years, and it's my home.'' said another resident.
The scale of the flooding has seen around 130 municipalities in Quebec affected, prompting the province to make a request to the federal government for the army to be drafted in.