President fails to Czech whether PM is really resigning!
Comments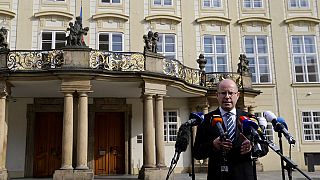 Sparks flew at Prague Castle on Thursday as the Czech Republic's political crisis took a new and almost farcical turn.
Prime Minister Bohuslav Sobotka arrived to meet President Milos Zeman but not to offer his government's resignation as originally expected. That has been put back to the second half of May.
Sobotka's host however seemed not to know or care, thanking the PM for his work and accepting the unoffered resignation!
Some speculated that Zeman may have deliberately tried to embarrass Sobotka as the pair don't have good relations.
'This is Czech politics, I'm afraid' Spat between Czech president and prime minister shocks country @Karel_Janicekhttps://t.co/8bAxeKXVcS

— AP Europe (@AP_Europe) 4 mai 2017
The prime minister said this week that he and the government would quit, less than six months before its term ends, to resolve a dispute with billionaire Finance Minister Andrej Babis.
Social Democrat Sobotka wants to form a new cabinet without Babis, whose business practices he has questioned, even if that means stepping aside himself.
Babis, founder of the popular anti-establishment ANO movement, denies any wrongdoing.
with Reuters