Canada orders recall of too-strong Bombay Sapphire gin
Comments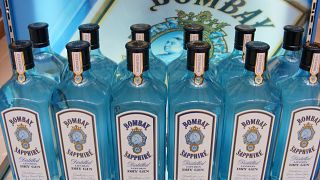 Canadian liquor authorities are recalling bottles of Bombay Sapphire sold in the country after it was revealed they contained nearly double the amount of alcohol.
The discovery prompted the country's food inspection agency to issue nation-wide warnings against drinking the Bombay Sapphire London Dry Gin, found to contain 77 percent alcohol by volume.
The recall started in Ontario earlier this week, after food inspectors found the bottles had not properly been diluted to 40 percent.
The Liquor Control Board of Ontario warned the bottles were not safe to drink and the elevated alcohol content could cause "serious illness".
Four other provincial regulators from Newfoundland and Labrador, Saskatchewan, Quebec and Nova Scotia joined the Ontario recall, according to the Canadian Broadcasting Corporation, before national authorities extended the recall throughout the country Wednesday evening.
The recall only affects Bombay Sapphire 1.14-litre bottles with the product code L16304.
Bacardi Canada, the company which manages the import and distribution of Bombay Sapphire in the country, says it estimates as many as 1,000 cases worth of bottles were affected.
The company said the gin was mistakenly bottled while being transferred from one bottling tank to another.
It is the second time this year authorities have had to recall Georgian Bay brand vodka in March after inspectors found bottles containing 81 percent alcohol instead of the advertised 40 percent.
Authorities are urging anyone in Canada who may have purchased the too-strong Bombay Sapphires to return their bottles at their point of purchase for a full refund.
The Canadian Food Inspection Agency says there have not been any reported illnesses.