Argentine prosecutor found bound and gagged
Comments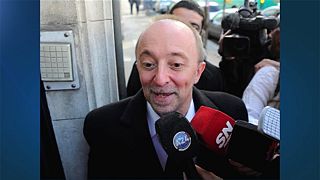 An Argentine prosecutor was found bound and gagged in his office in Buenos Aires province on Wednesday (May 3). Fernando Cartasegna is leading a probe into police corruption.
A pamphlet saying "Meet the New Nisman" was recently left at his home and the name of the dead investigator written in sugar on his floor in an obvious threat.
Alberto Nisman was a federal prosecutor found shot dead in his Buenos Aires apartment in 2015 while developing a case against then-President Cristina Fernandez.
Attorney General Julio Conde Grand said Cartasegna was not however, seriously hurt.
"He was grabbed from behind so he could not identify the attacker. He was tied looking to the ground, with his arms and legs at his back. He was gagged and then threatened."
The incident has raised concerns over the safety of those investigating alleged fraud and corruption in Argentina.
Cartasegna is said to have been investigating allegations that police officers had been taking bribes from lawyers representing defendants in traffic crimes.
The prosecutor who was taken to hospital is said to be recovering from his ordeal.