SpaceX boosts US spy satellite into orbit
Comments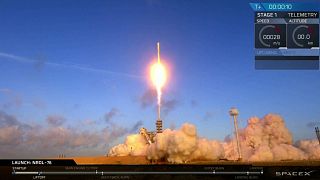 A classified spy satellite has been boosted into orbit for the US military. The launch of the SpaceX Falcon 9 rocket breaks a ten-year monopoly held by a Lockheed Martin-Boeing partnership.
While it was SpaceX's 34th flight, it was the company's first for the Department of Defense.
Congratulations to the #NROL76 team, including @SpaceX and @45thSpaceWing on a successful launch! pic.twitter.com/4BwyHiegsH

— NRO (@NatReconOfc) May 1, 2017
After lift-off from the Kennedy Space Center in Florida and the successful detachment of the satellite, the rocket turned around and touched down at a nearby landing pad.
Split screen shot of Falcon 9 first stage as it returns to Earth and lands at Landing Zone 1. pic.twitter.com/5hlwTOTGKa

— SpaceX (@SpaceX) May 1, 2017