Broken bones and surgery for some after turbulent Aeroflot flight
Comments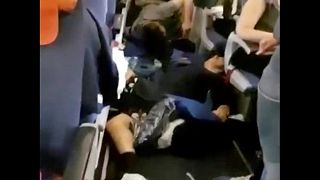 Mobile phone footage shows the aftermath of an Aeroflot plane that encountered air turbulance 40 minutes into the flight.
It shows passengers lying on the ground and food and other items scattered on the floor.
One passenger said she was "hurled to the ceiling" while trying to cling on with shaking that "wouldn't stop."
"We were hurled up into the roof of the plane, it was practically impossible to hold on," a passenger who gave her first name as Yevgenia told Rossiya 24 by phone "It felt like the shaking wouldn't stop, that we would just crash," she added.
Fifteen people were injured, with three needing surgery, two for multiple leg fractures and one for broken ribs.