Pope urges mediation in growing dispute between N.Korea and Washington
Comments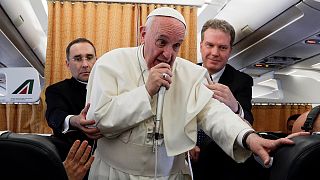 It is an issue that has reached boiling point and threatens us all with nuclear destruction.
Those the words of Pope Francis on the dispute between the US and North Korea.
The pontiff said he believed a third country such as Norway should try to mediate amid the growing tensions.
Speaking during his return from a visit to Egypt, the Pope said: "A widened war would destroy not half of humanity but a large part of humanity. It would be terrible.
"Let's stop and find a diplomatic solution."
Pope Francis said he would be willing to meet the President Trump to discuss the matter when he visits Europe next month, but so far he is not aware of any request for a meeting from Washington.
The pontiff's comments on North Korea came the day after Pyongyang test-fired another ballistic missile in defiance of fresh warnings from the US.