'Talk instead of yelling at North Korea' - Russian diplomat
Comments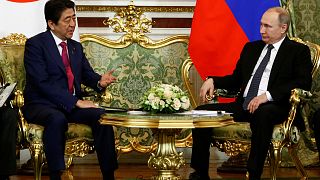 The US said on Thursday that its policy was to exert maximum pressure on North Korea through sanctions and diplomatic activity, echoing comments made by the Trump administration the previous day.
Susan Thornton, acting assistant secretary of state for East Asia, said this was "frankly a last best way of seeing whether we can get a peaceful resolution to this problem."
Separately Russian President Vladimir Putin and Japanese Prime Minister Shinzo Abe, meeting in Moscow, called on countries in the region to avoid behaviour or rhetoric that could increase tensions around Pyongyang's nuclear programme.
The Russian-Japanese talks thousands of kilometres from the Korean peninsula were part of a wider diplomatic effort to rein in Pyongyang.
Accompanying the Japanese prime minister in Moscow were officials from Tokyo's foreign ministry.
"The situation concerning North Korea is very worrying. Worrying for us, worrying for Russia, for the international community. The two leaders discussed this point very frankly. And so Prime Minister Abe asked President Putin to play a constructive role to try to apply still more pressure which is necessary for North Korea," said Norio Maruyama, press spokesman from Japan's Ministry of Foreign Affairs.
Someone who has used to periodic spikes of tension over North Korea is the former Russian ambassador to South Korea Gleb Ivashentsov. He has previously described the path to peace in the region as "tortuous".
Now is advice is: engage with North Korea or the heightened tension could lead to events getting dangerously out of control, even accidentally.
"Our goal: we are trying to persuade our partners in the USA, Japan and India that if we talk, we should really talk instead of yelling at Pyongyang from loudspeakers at the border, and keeping aircraft carriers next to their shores. Because there could be a computer system failure. Where will it happen? In North Korea or the USA or Japan, at this moment it is very hard to give any guarantees," said Ivashentsov, who was Russian ambassador in Seoul from 2005 to 2009 and is now a member of the Russian International Affairs Council.