Protesters storm FYROM parliament, attack MPs
Comments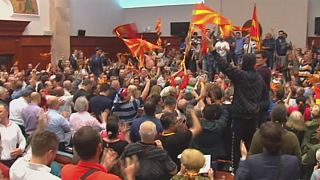 Protesters have stormed the parliament of the Former Yugoslavian Republic of Macedonia, and assaulted the leader of the Social Democrats in a bid to stop the formation of a new government.
It comes after an alliance of Social Democrats and ethnic Albanian parties voted to elect an Albanian,Talat Xhaferi, as parliament speaker.
Roughly 200 protesters broke through a police cordon, and surrounded politicians waving national flags and shouting 'traitors'.
Footage showed Zoran Zaev, leader of the leftwing opposition SDSM party with blood trickling from his forehead.
The country has been without a government since December. Although Zaev forged a majority coalition with ethnic Albanians, that alliance has triggered daily street protests by Macedonian nationalists in Skopje.
The EU's enlargement commissioner Johannes Hahn slammed the protesters actions in a tweet saying 'Violence has NO place in Parliament," his comments add to a chorus of concern from western diplomats over the escalating political crisis.
I condemn the attacks on MPs in #Skopje in the strongest terms. Violence has NO place in Parliament. Democracy must run its course. eu_near</a></p>&mdash; Johannes Hahn (JHahnEU) April 27, 2017