Britain welcomes Brexit negotiators ahead of key EU summit
Comments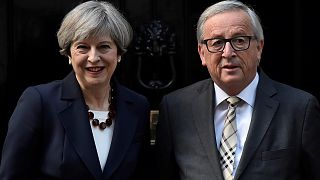 Clearing the air, the British Prime Minister has welcomed the EU's Brexit negotiation team in London.
A Downing Street spokesperson described the talks as 'constructive', as Theresa May seeks to warm relations after riling Brussels with her tough stance on key issues such as freedom of movement.
The UK's Brexit negotiator was also on a charm offensive to get early assurances of rights of EU citizens in the UK and reciprocal agreements.
"The government has made it very clear, it wants to secure the rights of EU nationals living in Britain at the earliest opportunity in the negotiations. Citizens of EU member states make a vital contribution to our society and our economy," David Davies, British Secretary of State for Exiting the European Union.
The meeting comes just days before a key EU summit, where the 27-member bloc, without May, will adopt the guidelines for Brexit negotiations which will start in earnest after the UK's general election in June.