Syria used sarin gas in Khan Sheikhoun - France
Comments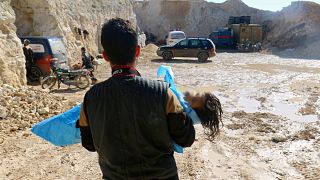 France's foreign minister says samples obtained by French intelligence show that forces loyal to Syrian President Bashar al-Assad "undoubtedly" used sarin nerve gas in an attack in northern Syria on April 4.
"We know, from a certain source, that the process of fabrication of the samples taken is typical of the method developed in Syrian laboratories," Jean-Marc Ayrault told reporters.
#BREAKING French intelligence blames Syrian regime for 'chemical attack'

—

AFP

news agency (@AFP) 26 avril 2017
"This method is the signature of the regime and it is what enables us to establish the responsibility of the attack."
"We know because we kept samples from the previous attacks that we were able to use for comparison."
France says samples from April 4 Syria chemical attack prove government used sarin: minister https://t.co/Joipv0SkWD

— Reuters World (@ReutersWorld) 26 avril 2017
What happened?
The attack in the town of Khan Sheikhoun kille scores of people.
It prompted the US to launch a cruise missile strike on a Syrian air base in response.
It was Washington's first direct assault on the Assad government in the conflict.