Netanyahu refuses to meet German minister in diplomatic spat
Comments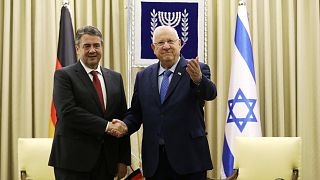 Amid tension between Israel and Germany over Berlin's criticism of settlement building in the West Bank, there is a new diplomatic flare-up.
The Israeli Prime Minister Benjamin Netanyahu cancelled talks on Tuesday with the visiting German Foreign Minister in a protest over meetings he had with NGOs critical of Israel's treatment of Palestinians.
Netanyahu said: "I am leading Israel's foreign relations to an unprecedented flourishing state but I do so through proud nationalist policies and not by bowing our heads and grovelling.
"Our relations with Germany are strong and important and they will continue to be so."
The German Foreign Minister Sigmar Gabriel had earlier said it would be a "remarkable event" if Netanyahu were to go ahead and cancel their meeting.
"I regret it greatly," he told reporters. "And, I'll say it openly, we cannot become a political football for Israeli domestic politics.
"But it's not a catastrophe, there will be another occasion to meet somewhere.
"When you come here one has to know that you are not immune to surprises."
Gabriel did go on to meet the Israeli president, however, with both men saying they were committed to relations between their two countries.
The Israeli President, Reuven Rivlin, said he did not think relations would be affected by the latest row.
Last month Berlin called off a meeting scheduled for May between German and Israeli leaders amid ongoing controversy over settlement building in the Israeli-occupied West Bank.
Belgium also had a spat with Israel back in February over the issue of visiting NGOs critical of the Israeli government.
This after the Belgian Prime Minister Charles Michel met with people from the same group that Gabriel met.
The Belgian ambassador to Israel was reprimanded.