Powerful quake hits Chile, no deaths reported
Comments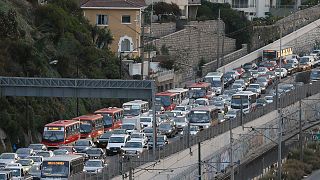 Chile's been rocked by a major earthquake, but there are no reports of any deaths or serious damage.
With a magnitude of 7.1, the quake struck on Monday off the west coast,around 35 kilometres from Valparaiso.
It briefly caused alarm along the Pacific coastline, and rocked the capital Santiago.
There were some evacuations, but a tsunami warning was cancelled. Mobile phone networks went down for a while in some areas.
"Everything was falling. The television was falling, a painting was falling, everything was falling;" said one woman.
GIF: The moment a powerful earthquake off Chile was felt in the capital Santiago https://t.co/hrrOq8TJDmpic.twitter.com/3tMQDYwKO9

—

BNO

News (@BNONews) 24 April 2017
Several aftershocks were felt, including in Santiago. The effects of the powerful quake were tempered because it was offshore.
Chile, located on the so-called "Pacific Ring of Fire," has a long history of deadly quakes, including a 8.8 magnitude one in 2010 off the south-central coast, which also triggered a tsunami that devastated coastal towns. More than 500 people died.