British election: Labour offers Brexit pledge on EU nationals
Comments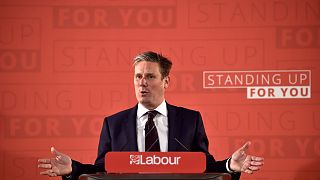 The stakes have been raised ahead of Britain's early election in June, with the opposition Labour Party setting out its Brexit strategy.
Attempting to tackle Prime Minister Theresa May's lead in the opinion polls, Labour says if it wins power it will immediately guarantee the rights of EU citizens in the UK.
Keir Starmer, Labour's Brexit spokesman, said: "We accept that immigration rules are going to have to change when we leave the EU.
"But we don't accept that immigration should be the only overarching priority, the only red line.
"Nor do we believe that leaving the EU means that we have to sever all of our ties with Europe. We have a very different vision."
"On day one of a Labour Government we will immediately guarantee that all EU nationals currently living in the UK will see no change in their legal status as a result of Brexit. Day one, big commitment."
Prime Minister Theresa May campaigned in Bridgend in Wales on Tuesday.
Despite her lead in the polls, May is promising a tough fight for votes on the campaign trail.
She said: "We want to get votes and support here in Wales because that would strengthen my hand in the Brexit negotiations.
"The vote for any other party would be a vote for a weak and failing Jeremy Corbyn, propped up by a coalition of chaos which would risk our national future."
The opposition parties are scrambling to organise manifestos, caught off guard by May calling an election three years before it was due to be held.