Long queues of French voters at polling stations around the world
Comments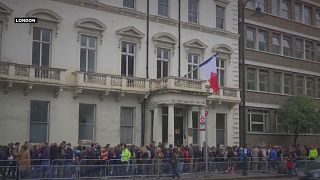 In numerous centres around the world there have been long queues of French citizens wanting to cast their ballots in the tight presidential race.
The scenes in London were typical, with lines forming around several blocks outside some polling stations.
Montreal also saw particularly long queues.
People reported having to wait for up to two hours in some places.
One woman in a line in London said: "With Brexit now, with all things all over the world, we have to make a really, really good choice."
There were similar scenes in Brussels, where EU politicians and diplomats are anxiously awaiting the results.
"We can't dismantle the fragile European structure we have today," said one woman.
"That's a luxury we can't afford. Therefore we have to be responsible faced with this fact."
Queues also formed at the French consulate in Tel Aviv.
One man in the line said: "Recently there have been a lot of terror attacks in France … and the Jewish community feels more threatened than other communities, which is understandable.
"We will see at the end of the day if it influenced the votes, especially the terror attack that happened just two days ago."
Meanwhile, polls began closing in France's overseas territories and the counting of ballots got underway.