Long lines in London for French voters
Comments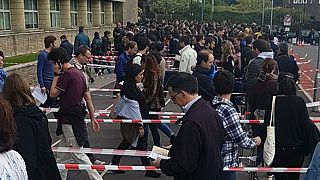 French voters in London are out en masse at polling stations to cast their ballots in the country's tight presidential election.
As shown in the video above, a very long line formed around midday to access the voting station at Winston Churchill International High School in northwest London.
Voters in the queue had to wait up to 1.5 hours before casting their ballot.
It took seven minutes to film the entire line of people from beginning to end.
Overall the midday turnout in the first round of the presidential election was slightly up compared to 2012, with 28.54 percent today compared to 28.29 percent five years ago.
There are over 300,000 French people living in the UK, according to the French Foreign Ministry.