'Syria retained chemical weapons' - US Defense Secretary Mattis
Comments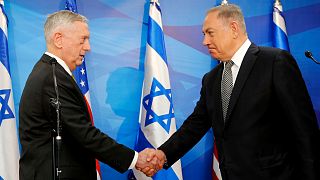 US Defense Secretary James Mattis claims Syria has retained chemical weapons, despite a 2013 agreement to hand them over to the international community.
It's a violation of the United Nations Security Council resolutions.

US Secretary of Defense
"The bottom line is, I can say authoritatively that they have retained some [chemical weapons]. It's a violation of the United Nations Security Council resolutions," he told a press conference.
He wouldn't comment on how many weapons he thought Syria still possessed but said it was an issue to be taken up diplomatically.
The Syrian government denies US accusations of a chemical attack in Idlib Province on April 4, 2017.
Rekindling US-Israeli relations
Mattis made the comment during a trip to Israel, where Prime Minister Benjamin Netanyahu said he was optimistic about relations with the US under the Trump administration.
"We sense a great change in the direction of American policy. We noted the very clear and forthright words, Mr. Secretary, that you had to say about Iran. This follows very strong and forthright words on the part of President Trump and very forthright deeds against the use of chemical weapons by Iran's proxy, Syria," said Netanyahu.
Mattis: Syria still has chemical weapons -- https://t.co/dnPYLPOZ5opic.twitter.com/oXo3upudh0

— Military Times (@MilitaryTimes) April 21, 2017
Mattis, too, appeared eager to rebuild bridges after eight years of US-Israeli friction under the Obama administration.
"I think it's important that we remind ourselves that if good people don't band together then bad people can do a lot of damage in this world. And we're committed to stopping that and doing whatever it takes to pass on peace and freedom to the next generation," Mattis responded.