One small step... China launches first cargo spacecraft
Comments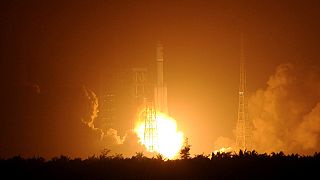 China has taken another step forward in its space programme with the launch of its first cargo spacecraft.
Its hoped it will provide an "important technological basis" for the construction of a permanently-manned space station by 2022, state media report.
President Xi Jinping says the advancement of China's space programme will strengthen national security and he has placed it high on his government's agenda.
China launches 1st cargo spacecraft #Tianzhou1 into space, closer to building a space station by approximately 2022 https://t.co/H3gYf0csy2pic.twitter.com/SW7umstvT3

— China Xinhua News (@XHNews) April 20, 2017
UPDATE: China declares launch of cargo spacecraft #Tianzhou1 a success as it enters designated orbit https://t.co/JiVaNuhDpbpic.twitter.com/r7CsN3WsGF

— China Xinhua News (@XHNews) April 20, 2017
The Tianzhou-1 spacecraft should dock with the Tiangong 2 space laboratory, where two astronauts spent a month last October, in Beijing's longest-manned space mission.
Some #Tianzhou1 launch photos pic.twitter.com/jwzD0O6UpH

— China Space Report (@ChinaSpaceNews) April 20, 2017
US concerns
China's space programme lags behind those of the US and Russia, despite it making gains for military, commercial and scientific purposes.
Washington has drawn attention to Beijing's increasing capabilities in space, with the US Defense Department accusing China of pursuing activities aimed at preventing other countries from using space-based assets in a crisis.
China has previously tested anti-satellite missiles, but insists its ambitions in space are purely peaceful.