UN court rejects Ukraine bid for measures against pro-Russian rebels
Comments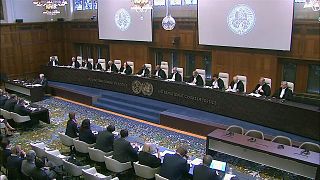 The International Court of Justice has rejected Kyiv's request for an emergency ruling ordering Russia to stop backing separatists in eastern Ukraine.
The court in The Hague said Ukraine did not provide enough evidence of Russia's alleged role in the conflict, now in its fourth year.
However, the judges ordered Russia to stop discriminating against ethnic Tatars in Crimea, the peninsula Russia annexed three years ago.
The court said "the Russian Federation must refrain from maintaining or imposing limitations on the ability of the Crimean Tatar community to conserve its representative institutions, including the Mejlis [Tatar Congress]."
The Mejlis is the Tatars' legislature, which Russia banned last year
The court also unanimously ordered Russia to ensure Ukrainian language education remains available in Crimea.