Georgia Democrat puts Donald Trump's popularity to the test in Congress vote
Comments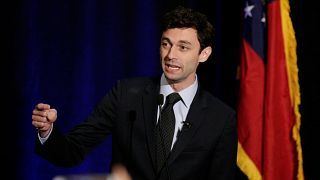 Democrat wins most votes, but short of majority
Race seen as a referendum on Trump
Novice Democrat candidate Jon Ossoff fell short of pulling off a major upset in a congressional election in Atlanta, Georgia.
The documentary filmmaker withstood attacks from President Donald Trump to poll 48.3 per cent of the vote (with 88 per cent of the vote counted).
He was shy of the 50 percent he needed to become the first Democrat to represent Atlanta's affluent northern suburbs since the 1970s.
Ossoff benefitted from a Republican field of 11 candidates, some of whom declared their loyalty to Trump while others kept their distance.
He will compete in a run-off with Republican candidate Karen Handel, who finished second with 19.5 per cent of the vote. Handel failed to mention Trump during a 10-minute speech on Tuesday night.
Ossoff focused his campaign on a promise to "Make Trump Furious." He raised more than $8 million (7.5 million euros) in the first three months of the year, much of it from out of state, and drew volunteers from across the country.
Trump tweeted an unprecedented six times in the 48-hours before the polls closed in a bid to get voters to vote Republican.
With eleven Republican candidates running in Georgia (on Tuesday) for Congress, a runoff will be a win. Vote "R" for lower taxes & safety!

— Donald J. Trump (@realDonaldTrump) 18 avril 2017
Despite major outside money, FAKE media support and eleven Republican candidates, BIG "R" win with runoff in Georgia. Glad to be of help!

— Donald J. Trump (@realDonaldTrump) 19 avril 2017
Republicans must get out today and VOTE in Georgia 6. Force runoff and easy win! Dem Ossoff will raise your taxes-very bad on crime & 2nd A.

— Donald J. Trump (@realDonaldTrump) 18 avril 2017
Ossoff's near victory follows a strong performance by Democrat James Thompson in a special congressional election in Kansas last week, in what was considered a Republican stronghold.
Thompson narrowly lost but polled more than 24 percentage points than the party's candidate in the 2016 election.
A similar margin in the 2018 mid-term elections would see the Democrats regain a majority in the House of Representatives.