French authorities thwart pre-election attack
Comments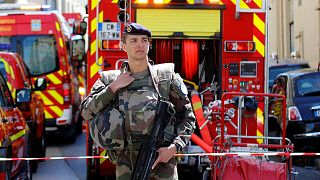 French authorities have detained two men on suspicion of plotting an imminent attack.
The arrests were made in the southern city of Marseille, just five days before the first round of the presidential election.
France's DGSI domestic intelligence agency reportedly suspects the pair of planning an attack to coincide with Sunday's ballot (April 23).
Both men are believed to have been radicalised in prison.
Reports suggest guns and material for making explosives have been found in a city centre flat during the course of the investigation.
Interior Minister Matthias Fekl said a definite attack had been headed off.
"These two radicalised French nationals, born in 1987 and 1993, intended to commit in the very short-term – and by that I mean in the coming days – an attack on French soil," Fekl told a press conference.
More than 230 people have been killed in Islamist attacks in France over the last two years, pushing President François Hollande to declare France a nationwide state of emergency. National security has been high on candidates' agendas in the run-up to the first-round vote.
The suspects had been sought by the DGSI for over a week. It warned main candidates in the ballot of a threat to their security, according to campaign officials.