French election on Martinique: "I don't know who to vote for, so what's the point?"
Comments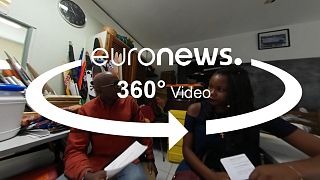 Jean-Philippe Ludon, a journalist at Radio Caraïbes International in the French overseas region of Martinique, speaks with Geena about the upcoming French elections.
I'm not interested, I haven't been following the election coverage, I don't know who to vote for, so what's the point?
Geena Jacques was born in France where she lived until she was 15. His parents then decided to move back to the Caribbean island of Martinique.
Now aged 20, Geena hasn't decided on a career, and she's not really bothered about the presidential election.
We discover why she is not going to vote and what the future holds for young people in the region.
---
Producer: Olivier Péguy, euronews
in association with Jean-Philippe Ludon, Radio Caraïbes International
Editor: Emma Belay
Euronews powered by Google News Lab.