Political world can learn from tech sector
Comments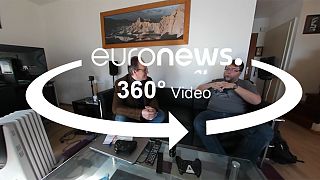 Politicians could learn from the technology sector's innovative working environment, according to an entrepreneur in Strasbourg.
With just weeks to go until the French presidential elections, Stéphane Becker said co-working spaces allow companies to combine their skills to provide a better service for customers.
The 42-year-old start-up chief said the political world could be inspired by his industry.
He said: "When I see politicians, I find that they still spend a lot of time disparaging one another, to be in clashes that are purely dogmatic.
"And the political leaders who get results are those who manage to get out of these divisions and to collaborate together, saying to each other, 'OK, the objective is that France will get better. So let's work together to make France better.'
"It's true that in a co-working space, we each have our skills. And we meet the needs of the customer by associating different companies. And that allows us to build an offer that we could not do if we were alone.
"So yes, maybe politics could be inspired by co-working spaces."
Speaking to Christian Bach, a journalist with the Dernières Nouvelles d'Alsace daily newspaper, Stéphane said he is following the elections.
He said: "Of course I am interested in the campaign, if only for one thing: when you are an entrepreneur, the environment of your company is very important.
"You are going to have people appointed to power, who will enact new laws and this will have an impact on the company. So you are very much interested in following what happens."
Stéphane described his frustration at the current tax system following the last presidential election, saying: "You know, I am among the disillusioned from 2012.
"At the time, there was the economist, Thomas Piketty, who had a lot of wind behind him. And I said to myself, 'Well, we'll finally have a real tax reform that we need.'
"Indeed, if you look at France, there is an absolutely incredible thing when you are an entrepreneur, you realize that taxation is further reduced when there is no risk on investment.
"If you want to invest where there are no risks, taxation is low.
"On the other hand, starting a business, investing in a business, is something risky, and well, taxation is higher.
"This is even higher than if you were making a risk-free investment such as life insurance. So after a while, you say to yourself you're going against the current. You should be paid for the risk.
"Business creation should be supported because it means creating jobs."
————
Producer: Olivier Péguy, euronews
in association with Christian Bach, Dernières Nouvelles d'Alsace
Editor: Emma Belay
Euronews powered by Google News Lab.