Migrants: record numbers rescued in the Med
Comments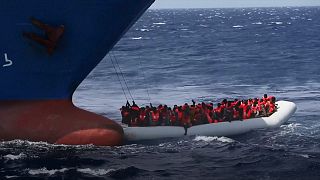 Rescue ships took on thousands of survivors from dinghies in deteriorating weather in the Mediterranean between Friday and Sunday.
Rescuers had to keep a close watch on around 1,000 migrants in vessels floating near their ship.
They could not be picked up because the rescue vessel had reached capacity with others it had already picked up.
"Maximum capacity"
The operation began in the early hours of Saturday.
The Migrant Offshore Aid Station (MOAS) Phoenix picked up 453 people.
Medical cases, women and children were a priority.
As maximum capacity was reached, life jackets, basic provisions and supervision were then administered to the more than 1,000 people who remained stranded on unseaworthy vessels.
#PressRelease#MOAS conducts rescue of 1,500+ people from 9 vessels in 24hrs of uninterrupted ops. in #Mediterraneanhttps://t.co/vi1SnGkgRfpic.twitter.com/siyTdz7gj2

—

MOAS

(@moas_eu) 16 avril 2017
Preparing #easter dinner for some of the #babies aboard of Phoenix pic.twitter.com/WvkZVBL2ZN

— ReginaCatrambone (@ReginaCatrambon) 16 avril 2017
The death toll
Officials say seven migrants died.
Record numbers
More than 2,000 rescues were conducted in the central Mediterranean by various search-and-rescue operations on Friday.
The weekend is set to be the latest marker in the ongoing humanitarian crisis.
According to the International Organisation for Migration, nearly 32,000 migrants have arrived in Europe by sea so far this year.
More than 650 have died or are missing.