Five dead in small plane crash near Lisbon
Comments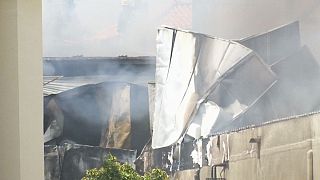 A small plane has crashed in Tires, just west of the Portuguese capital Lisbon killing five people.
According to local media, the Swiss-registered aircraft exploded mid-air before crashing into a Lidl supermarket warehouse, falling onto a lorry and killing the driver.
"When taking off, the plane hit a truck that was parked in the supermarket. This triggered a fire that hit a house and caused damage to the structure of the supermarket and to the house. The fires are now under control," Andre Fernandes of the Cascais Civil Protection explained.
The victims were identified as the Swiss pilot, three French citizens and the Portuguese truck driver.
Authorities have closed the airfield while an investigation is carried out into the cause of the crash.