Tight security for Easter at Egypt's Christian churches
Comments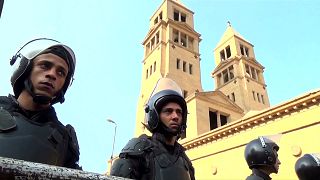 Easter means tight security for the Christian minority in Egypt, who are marking the occasion in sombre mood after last week's murderous attacks on Coptic churches.
The measures have been particularly strict at the two churches targeted by the bombers, in Tanta and Alexandria.
In Cairo parking restrictions and buffer zones have been put in place in streets near churches, blocking traffic and pedestrians.
"All public places now have police detectives dressed in civilian clothes. Also security forces are being spread around so there can be a speedy intervention in case of any emergency, God forbid," said Hohamed Hashem, a journalist with Rose al-Yousef magazine in Cairo.
Following the two suicide attacks claimed by ISIL which cost 45 lives, the Egyptian government imposed a state of emergency on Monday.
The Church said Easter celebrations would be limited to a simple Mass.
One church official has said the numbers coming to services over the weekend has sent a clear message that they are not afraid.