Egypt declares state of emergency following church blasts
Comments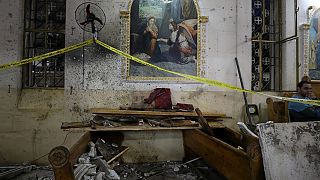 Egypt has declared a state of emergency following bomb attacks on two Coptic churches which left at least 45 dead.
Both blasts were caught on camera. One hit Saint Mark's Cathedral in Alexandria killing at least 17 and injuring dozens more. The other tore through the inside of St George's Church in Tanta during a Palm Sunday service, leaving at least 27 dead and around 78 or more injured.
Self-styled Islamic State (IS) has claimed responsibility for the attacks which are the latest on the religious minority, prompting anger and fear among Egypt's Christian community.
Both blasts are thought to have been caused by suicide bombers. Shocked witnesses described what happened giving graphic accounts.
"There was blood and flesh everywhere…on the walls and on the statues. There were broken chairs and broken glass.The people had been happy and they'd come to pray for peace, " said one woman.
"There was blood all over the floor and body parts scattered everywhere," said another.
"There was a huge explosion in the hall. Fire and smoke filled the room and the injuries were extremely severe."
Security forces were deployed across the country following the attacks. Among the dead were at least three police officers.
The blasts have come just weeks before an expected visit by Pope Francis intended to show support for Egypt's Christians, who make up about 10% of the population.