Hungary protesters send noisy message to PM Orban
Comments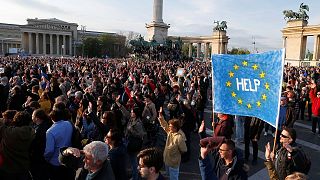 Protesters accusing Hungary's government of trying to silence criticism made themselves heard in Budapest on Saturday.
It is unbearable what is happening here. I would like to live in a democracy

Documentary-maker
Urged to bring whistles, drums or anything else that makes a noise, thousands rallied in the capital, especially angry at a new law which critics say would hurt academic freedoms, notably threatening an international university in the city founded by billionaire financier and philanthropist George Soros.
"This is about something which affects everyone in the country. They can't just spit into everything," one woman taking part told Euronews.
Another demonstrator, a German Erasmus student in Budapest, said:
"What is going on right now in Hungary is…democratic to some extent but seeing all the propaganda in the metro stations, on the buses, it is not intelligent. It is dumb and it manipulates the voters and the people and this is something that needs to be stopped."
#WEWONTSTAYSILENT : Performers & Crowd in #Budapest protest #Orban Gov's steps to mute #free#civil society and #CEU. #istandwithCEUpic.twitter.com/AyoWvROf95

— Stand With CEU! (@StandWithCEU) 15 avril 2017
Rights groups accuse Prime Minister Viktor Orban's right-wing government of a widespread crackdown on dissent in Hungary, after previous curbs on the public media, state institutions and the constitutional court.
Orban has long criticised civil society organisations funded by Hungarian-born Soros, accusing them of opposing his tough migration policies and supporting illegal migration. He says the Soros-founded Central European University (CEU) has violated Hungarian rules – an accusation the university rejects.
The EU and the United States have sharply criticised the new legislation, setting tougher conditions for the awarding of licences to foreign-based universities.
Some protesters on Saturday carried European Union flags and banners with messages such as "Viktor the game is over" and "I stand with CEU".
"It is unbearable what is happening here, I would like to live in a democracy," said Agnes Bojte, 40, who makes documentaries. "It is like the air is getting thinner and thinner in this country."
Orban, speaking for the first time since the protests began, told pro-government newspaper Magyar Idok that such conflicts were part of a fight for national sovereignty.
Foreign interests trying to subvert my rule, says Hungary's Viktor Orban, amid protests https://t.co/PIywMPnQ0Vpic.twitter.com/5u6AetdIhN

— Telegraph News (@TelegraphNews) 15 avril 2017
Euronews correspondent in Budapest, Nora Shenouda, said:
"Organisers of the 'We shall not stay silent' rally advertised it as the loudest demonstration in Hungary. Without any doubt, this event has had the most joyous and liberated atmosphere in the latest string of anti-government demonstrations."
with Reuters