US and Russia ties "at a low point"
Comments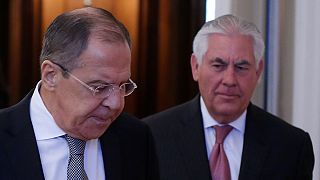 The presidents of the United States and Russia have both presented a negative view of the relationship between their two countries.
It comes after Moscow gave an unusually hostile reception to US Secretary of State Rex Tillerson on Wednesday in a face-off over Syria
U.S.-Russia relations reach "low point," Sec. Rex Tillerson says after Moscow meeting https://t.co/hglVmuwGgIpic.twitter.com/O0ry13QH3g

—

CBS

News (@CBSNews) 13 avril 2017
What has Washington said?
President Donald Trump said the United States' relationship with Moscow "may be at an all-time low."
Trump's comments came after he made his biggest foreign policy decision of his new presidency last week.
He gave the order to fire missiles at Syria to punish Moscow's ally for its suspected use of poison gas.
What has Moscow said?
Vladimir Putin was equally pessimistic.
"The level of trust on a working level, especially on the military level, has not improved but has rather deteriorated," the Russian President said in a TV interview.
Tillerson in Moscow
US Secretary of State Rex Tillerson got an unusually hostile reception in Moscow.
Tillerson met Putin in the Kremlin after talking to his Russian counterpart Lavrov for three hours.
The Kremlin had previously declined to confirm Putin would meet Tillerson, reflecting the renewed tension.
As Tillerson sat down for talks with Lavrov on Wednesday, a volley of statements, including from a senior Russian official, appeared timed to maximise the awkwardness during the first visit to Moscow by a member of Trump's cabinet.
Lavrov doubled down on Russia's support for Syrian President Bashar al-Assad, repeating denials that Assad's government was to blame for the gas attack last week.
What did Tillerson say?
He reiterated the US position that Assad must eventually relinquish power in Syria.
"We discussed our view that Russia, as their closest ally in the conflict, perhaps has the best means of helping Assad recognise this reality."
Asked whether Assad could be subject to war crimes charges, Tillerson said people were working to make such a case.
However, he cautioned doing so would require clearing a high legal hurdle.
Forget a "reset." In Moscow, Rex Tillerson just tried to stop the U.S.-Russia relationship from getting worse. https://t.co/0jarjCYIWF

— Foreign Policy (@ForeignPolicy) 13 avril 2017
What did Lavrov say?
Tillerson got what has been described as "an icy welcome".
Lavrov denounced the missile strike on Syria as illegal and accused Washington of behaving unpredictably.
Lavrov told reporters there are issues to be overcome.
"I liked how we spent yesterday. Firstly, President Putin had a very important talk with Secretary of State Tillerson for about two hours. Perhaps the negotiations will bear fruit in the future, but we have at least agreed to maintain dialogue on a number of important
However, Lavrov added some progress had been made on Syria at the meeting, adding that a working group would be set up to examine the poor state of US-Russia ties.
Relations sour
During the 2016 US presidential election campaign, Trump had frequently called for warmer ties with Putin.
This was despite criticism from lawmakers in his own party.
However, analysts say the civil war in Syria has driven a wedge between Moscow and Washington.
Trump and

NATO
Welcoming NATO Secretary-General Jens Stoltenberg to the White House on Wednesday, Donald Trump signalled a change of heart by saying the organisation is not obsolete as he declared during his election campaign.
Analysts are seeing this as another possible setback to a thaw with Moscow.
NATO Secretary General Stoltenberg: "A strong NATO is also good for the United States" https://t.co/mhw6tC15EU

—

NBC

News (@NBCNews) 12 avril 2017